Be Careful: Window Blind Cords pose a Strangulation Hazard to Children!
– Joint effort of Korean Agency for Technology and Standard and Korea Consumer Agency to prevent strangled accidents–
Window blinds are frequently used in households. However, accidents of a child dying after being choked on a window blind cord that is used to shed sunlight at home are taking place.
As of International Awareness Week*, Korea Consumer Agency (www.kca.go.kr) and Korean Agency for Technology and Standard (www.kats.go.kr) have announced safety awareness alert together to raise awareness of businesses and consumers on hidden hazard posed by window blind cords.
OECD report estimates that in the US, between 1996 and 2012, 285 children (under age 9) were involved in accidents of being entangled by window blind cords and among them 184 were dead. In Canada, from 1986 to the present, there have been 69 cases and out of total accidents 40 children were dead. In France, from 2004 to 2014, 4 children had accidents and one of them includes a death of a 3-year-old child. In case of Japan, the total number of accidents occurred was 9 including 3death cases and most of victims were 2-year-old children.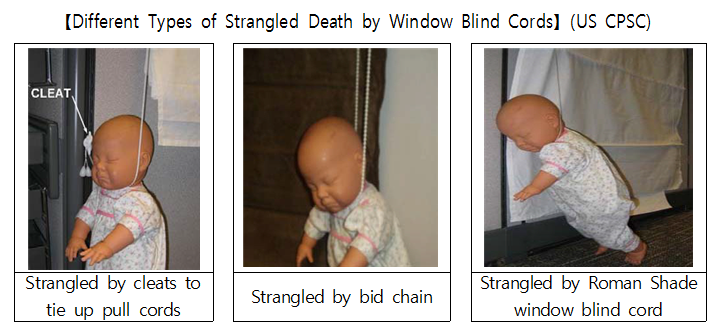 In Korea, during the past 3years (2013-2015), among cases reported to Injury Surveillance System (CISS) of Korea Consumer Agency Consumer 4 cases deemed hazardous including an accident that a 7-year-old child died after being entangled by a cord at home.
KCA conducted research on 20 window blinds selling on online open markets and found out that there was only one product that meets the safetyㆍquality * labeling regulation. 9 products leave out the whole product information and 10 products missed out some information such as manufactured date.
*「SafetyㆍQuality labeling regulation on Manufactured goods subjected to label information on SafetyㆍQuality」
(Korea Agency for Technology and standards Article 2012-176, 2013.7.26. Implemented)
To abide by government 3.0 plan, in cooperation with KATS, KCA will strengthen monitoring on window blind businesses to meet the SafetyㆍQuality labeling regulation, and will launch a campaign on raising awareness on abiding SafetyㆍQuality labeling regulation with Korea Solar Shading Industry Association.
KCA and KATS recommend that households with children should refrain from using window blinds with cords and if it is inevitable, use blind cords that are higher than 160 cm when attached or use parts to attach cord on the wall.